If the question "what do you want to be when you grow up" leads to blank stares, then you're in the right place! Middle school students are just beginning to recognize that they have a place in the world. Help them explore their potential through fun career activities!
These 20 middle school activities will help your students develop their own identities as they explore career choices. Many of the jobs they will have in the future are in fields that do not yet exist; make sure to focus on building essential skills alongside career research.
1. 5 Reasons That Career Exploration Must Begin in Middle School

This article has some excellent background on the challenges that high school graduates are facing when they leave school without a plan. For students who do have a plan, they began to formulate that plan during middle school. Take some time to read through the reasons why middle school career education is a must.
Learn more: Apprentice Learning
2. Middle School CTE Podcasts and Webinars

Check out this collection of podcasts and webinars that focus specifically on exploring Career and Technical Education (CTE) programs for middle school.
Learn more: Association for Carreer and Technical Education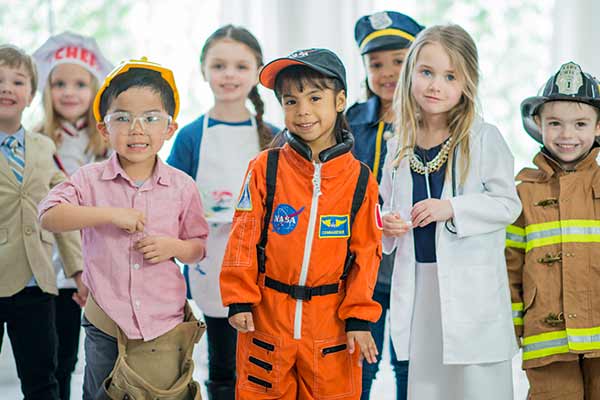 Community members love to be part of local schools! Hosting a Career Day is a great way to build connections between your school and your community. Don't forget to invite a well-known community figure to start it off!
Learn more: Sign Up Genius
4. Self-Reflection Activities

One of the great things about middle school students is that they start to see themselves as individuals. Before diving into career exploration activities, it is helpful to first get them thinking about their strengths and likes. This will help them when thinking about their career journey.
Learn more: MN Program of Study
5. Online Self-Assessment

This career clusters interest survey would be best for older middle school students who have already done some self-reflection on their skills and interests, or it could be used as a whole-class example of how to explore career clusters.
Learn more: Education Planner
6. Complete Middle School Program Resource

If you're building a program from scratch, this entire career unit will provide everything you need! There are 36 lessons targeting 6th and 7th grade students. That's enough to cover most of the school year!
Learn more: Exploring
7. Collaborative Job Shadow

This twist on traditional job shadowing uses a stuffed school mascot or another object. Parents take the object to work and take pictures while it "participates" in different job-related tasks! Once the object has explored a variety of careers, put together a bulletin board or other display to create career biographies within your community!
Learn more: The Creative Counselor
Do you want to live in a house or apartment? City or suburbs? Fancy car or public transportation? Once students make their choices, they'll get the "reality check" of how much that lifestyle will cost! This works to show how decisions about careers can influence their future.
Learn more: Texas Reality Check These posters can be downloaded and printed for use as career awareness activities. They are organized as career clusters and show a connection between careers. Chances are, there is a poster for a career that students have never heard of!
Learn more: Workforce Solutions
10. Claim Your Future Game

Available as a classroom or online game, this resource has students develop awareness about career options through different scenarios. In addition to asking about future financial goals, students are given an average salary and have to make decisions about career paths.
Learn more: Claim Your Future
A fun do-it-yourself career game is based on the popular board game "Taboo." Students are given a topic from their college & career vocabulary that they must describe to their team, but there are specific words that can not be used. This is a great way to get kids thinking about different career pathways while having fun!
Learn more: Ms. Sepp's Counselor Corner
Students struggle with how to describe their skills. Some middle school students may be looking at summer jobs and need to learn how to write a resume. This resource provides an example of what should be on the resume of a younger person, and how to format it appropriately.
Learn more: Money Prodigy
13. Career Day at Pixie Academy

While targeting elementary grades, this reading activity does a fantastic job of exploring how we can individually contribute to our community through the variety of jobs we have. This activity would work for 6th grade, or older middle school students could be paired with younger students.
Learn more: Common Lit
14. Scholastic "Jobs of the Future"

Scholastic has published dozens of career readiness activities, recognizing that today's jobs will not necessarily be tomorrow's jobs. Browse through the links to resources for a wide variety of tasks geared towards recognizing current occupation trends.
Learn more: Scholastic
15. Career Personality Profiler

Best for older middle school students, this fun career exploration activity approaches career paths by examining personality traits. Great for students who enjoy taking online personality quizzes!
Learn more: Truity
It's important for kids to learn about non-traditional forms of employment, such as the gig economy or freelancing. In this fun career planning game, players will explore whether or not they can make enough to pay the bills by working as an Uber driver.
Learn more: The Uber Game
To quote their intro, "Career Village is a community where students can get free personalized career advice from real-life professionals." This is a great resource for students who have career aspirations that do not line up with what is usually explored. This website allows them to connect with real professionals in a wide variety of careers.
Learn more: Career Village
18. Take Your Child to Work Day

Originally designed as "Take Our Daughters to Work Day" to introduce more girls into the workforce, this annual event has evolved into an opportunity for all kids to experience what their parents or caregivers do on a day-to-day basis at work. This website covers one professional's experience with this day, and also includes resources for those who work from home but still want to participate!
Learn more: Money Prodigy
19. Career Research Worksheet

This worksheet is a great way to introduce career research. With easily-identified topics, students can quickly figure out what skills are needed, how much it pays, and most importantly, what opportunities for growth there are in their chosen field.
Learn more: Biz World
This final resource is another exploration for students around career education. In "Earn Your Future," students work their way through modules that explore the different topics related to potential careers. The modules are organized by grade level, so you're sure to find the topics you need!
Learn more: PwC Charitable Foundation