Exclusive one-on-one with Markus Schäfer
Autonomy, battery tech and the AMG One
We ask the big questions on the industry's future
Mercedes-Benz is still at the forefront of technological innovation and, with cars like the AMG One and EQXX drawing so much attention, it shows that Merc is still spending tons on research and development.
CAR got some one-on-one time with Markus Schäfer, member of the board for Mercedes Group AG and chief technology officer, to dig into some of the industry's biggest technical hurdles and how Mercedes is tackling its electrified future.
What's taking autonomous cars so long?
Whether we like it or not, the world is getting ready for autonomous vehicles. But the car industry has been planning, researching and developing the technology for what feels like eons now, with little to show for it despite promising that the advanced technology is just around the corner.
'There are so many new opportunities in the field of digital, that open up completely new experiences,' says Schäfer, 'but we as an industry probably underestimated the challenge of solving this huge technical problem.
'It presented us with a huge technical challenge, because exposing a vehicle to urban traffic is probably one of the most complicated problems that mankind has ever, ever tried to solve.
Check out CAR's autonomous section
'We've actually followed two different roads; one is a robotaxi service that uses Level 4/Level 5 technology – a project we ran for a couple of years in the US. And we got so much background and experience out of it, but it's an enormous investment with a business case that will only come good far into the future. Assisted driving, meanwhile, has a much stronger business case – the advantages are huge, including safety. We're already able to overtake autonomously, and we're working with authorities to prove it's a safe maneuver.
But we're already taking it to the next level. Level 3 specifically. Mercedes was able to obtain system approval for the first-ever Level 3 vehicle – we're the only ones who have that. Rather dramatically, I call it the moon-shot – it's a fundamental change because responsibility moves from the driver to the vehicle. It's limited to 60kmh at the moment, as the authorities want to observe the performance of the system, but there are already signs that an increase in the speed is in preparation.'
So, when will we see what is to be considered 'fully autonomous' cars on the road, then? 'Right now, you would need to run a robotaxi 24/7 in order to get some kind of payback; when it comes to individual users… let's say the end of the 20s. You could envision that towards 2027 or 2028, you might see the first Level 4 cars on the highway.'
Is the solid-state battery really the future?
Or is there still life in the conventional lithium-ion battery? Solid state battery technology is seen as the holy grail of EVs, providing huge energy capacity increases compared to current technology, but like autonomy, it's been promised for a long time…
'We haven't seen the endgame [of conventional battery technology] at all,' says Schäfer. 'We were forecasting a big breakthrough in the mid-2020s for solid-state technology, but it's just not coming. Even so, there's still so much room for improvement with the conventional lithium-ion battery.
What is a solid-state battery?
'Adding silicon to the anode brings energy density up, and there's a lot of space to do that, which then narrows the gap when you look at the forecast of what can be done with solid state. So far, we haven't seen a real functioning and performing solid state battery, so it's still a head-to-head race between the two technologies.
'You have to remember that, right now, the electric drivetrain – so the battery and e-motor – as we all know is still more expensive than a combustion one. That's something engineers have to work on to drive costs down, but it's just going to take time.'
How relevant is the AMG One and EQXX, really?
Two cars at the polar ends of bleeding-edge technology – the AMG One and EQXX – have hit the headlines for very different reasons. No one can deny the technical achievements that both cars are for Mercedes-Benz, but how will they actually deliver change to future road cars?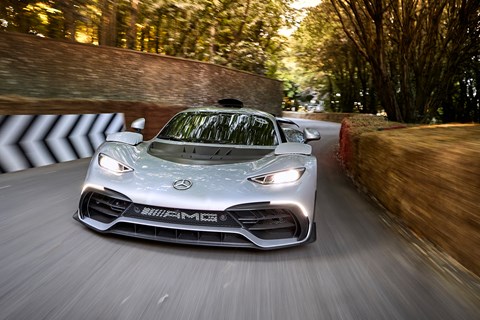 'We wanted to get engineers on their toes with this one,' smiles Schäfer when talking about the One. 'What do we take from AMG One? Well, why did we leave Formula E but stay in Formula One? Because we're pushing the limits of technology more with F1 – there's more freedom to work on the combustion side, the electrification side, the battery side, even on the sound technology and energy recovery. It's a lab on wheels. The inverter on the EQXX? We've taken it from Formula One technology.'
'And when it comes to technology seen on the EQXX, I mean the engineers just got so excited about it. The battery and cell technology is more or less exactly what we'll see from 2024 onwards in our series production vehicles. We've made our own e-motor in-house – why? Because we had so many ideas to bring the efficiency up, and so many of the ideas came from people here in the UK.
Mercedes Vision EQXX: the CAR lowdown
So, in short: the motor, the battery technology, the cell technology, and part of the inverter elements are definitely in the next generation. And there's more even on the infotainment side; our engineers' imaginations went wild and came up with this seamless pillar-to-pillar screen, which is something I am going to transfer into series production.
'And then we have to look at the sustainable materials in the EQXX, too: there's a lot of showcases in this car, which will end up in real material usage in our future series vehicles.'