Praga is not exactly a household name at this point, but you may be dimly aware that it builds a lot of racing cars out of carbonfibre – including the Praga R1 our very own James Taylor got to grips with in 2021. Now it's turning its attention to the hypercar market with this slug of aerodramatic form and function, the Praga Bohema, on sale in 2023.
Yes, yes. ANOther hypercar. The difference here is that Praga has been around for 115 years at this point and its current carbon racing car pedigree is genuine. To the extent that Romain Grosjean – that one – has done some of the development work. In fact, the company claims he's partly responsible for the entire Bohema program, having challenged Praga to build an 'uncompromised road/track performance car, promising a truly unique driving experience'.
Convince me
Performance isn't going to be a problem. The Praga Bohema has a target dry weight of 982kg and will be powered by brand new Nissan GT-R engines tuned to around 700bhp by Litchfield Engineering. The UK links don't end there, either, as Prague is currently in the process of setting up a 'global brand center' in England, due to open in 2023.
Joining the engine to the rear wheels is a Hewland sequential gearbox, with semi-automatic driving capability.
The structure is a carbon fiber monocoque with carbon fiber panels. Over 900kg of F1 windtunnel-honed downforce will help keep the car attached to the ground once you hit 155mph (250km/h), while the top speed of 'just over' 186mph (300km/h) is refreshingly modest – and deliberately designed so it can be achieved at 'virtually any racetrack'.
Pushrod suspension minimizes the necessary body height – you can see this in the way it looks draped over the wheels. Pictured, the Boheme rolls on center-locked 18-inch fronts and 19-inch rears, but it has been engineered to accept 18s all round to give owners access to the widest range of FIA-approved tires.
Semi-slick Pirellis are current standard fit, with stopping power provided by 380mm carbon-ceramic discs wrapped in six-piston calipers.
So far, so race car: what makes the Praga Bohema suitable for the road?
With low weight and clever suspension development, Praga claims the Bohema is a comfortable cruiser. It's also got a 74-liter fuel tank, luggage pods on either side of the car, and air-conditioning. The controls for this are mounted on the roof, 'fighter jet style'.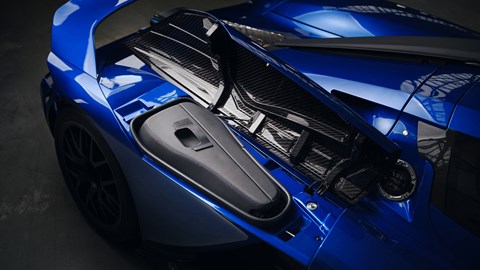 More significantly, the engine and transmission are not stressed elements of the structure but separately mounted and isolated from the cabin to reduce vibration and harshness. There are 'road-optimized helical cut' gears in the transmission to make that a little more palatable as well.
Praga claims there's enough adjustable space inside for two 2.0m adults in 'race-position comfort'. The comfort part seems debatable – check out the angle of the seat. Practically F1-levels of recline in there.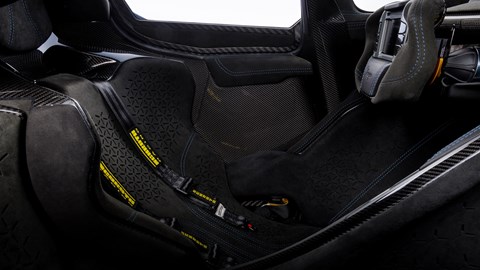 The steering wheel hosts most of the controls, including a digital display for the speed, gear, temperatures, driving mode and warning lights. It's also removable, should you need to get in or out. A built-in phone holder enables your Android to do sat-nav duty, while a built-in fire extinguisher system is available should the worst happen.
The whole lot is Alcantara-trimmed carbon – 56 individual carbon parts in all, so weight-optimized that the entire passenger cell weighs just 34kg. Elsewhere the Bohema deploys magnesium and titanium, the latter including the full exhaust. The 'Praga Gold' elements are duralumin.
Who actually builds this thing?
It will be assembled by Prague's long-term partner Kresta Racing – a Czech rally team. The first customer cars go into construction in 2023, with just 10 scheduled for completion next year.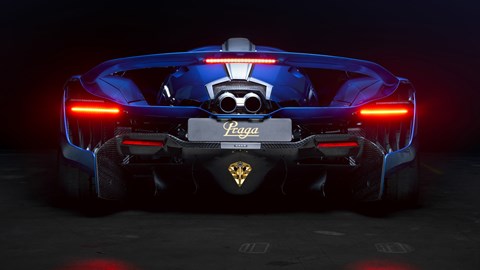 This is intended to ensure exclusivity for buyers. The total production run of Praga Bohema's will be limited to just 89 – marking 89 years since the firm won 1000 Miles of Czechoslovakia road race in 1939 with the Praga Alfa – with full-scale annual production likely to be around 20 cars.
How much does the Praga Bohema cost?
It's yours for £1.1m, which these days seems kind of reasonable from a company that actually seems to, you know, exist. It might not even be sold out yet.
Buyers will get a full handover experience involving the company's test drivers – 'to ensure the full performance and capabilities of the Bohema are understood and accessible'.