"We don't want to impact parents with extra costs (but) we found it a necessity at this time," said Regina Catholic Schools board chair Vicky Bonnell.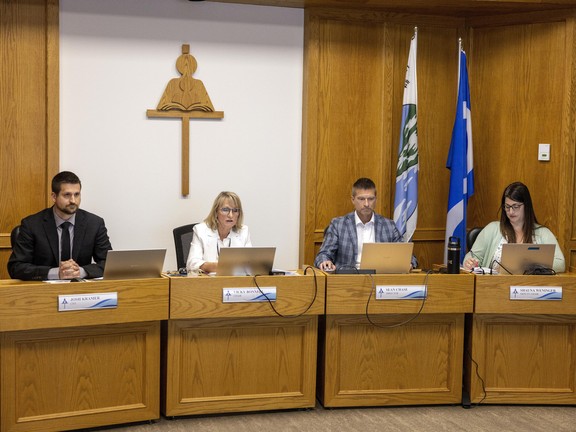 Article content
Like counterparts in Saskatoon, Regina Catholic Schools is turning to a new lunchtime fee directed at families, to help break the strain of budgetary costs this coming school year.
Article content
Board chair Vicky Bonnell said the division's dollars "didn't go as far as we wanted them to," following a special meeting to approve the 2022-23 budget on Wednesday.
"We would have preferred a lot more funds," said Bonnell, of the final budget. "However, we are dealing with what we have and doing the best we can. This budget is student focused. "
Financial projections anticipate expenses of just over $ 131 million, with operational funding from the province set to increase by one per cent, or $ 1.1 million. A budget draft shared earlier in June said this increase was not enough to cover the projected $ 3.2 million increase in expenditures.
Regina Catholic has just over $ 16 million in its reserves, with only $ 2.48 million identified as unrestricted. The division will be using $ 800,000 of that total to balance this year's budget.
Introducing fees for students who remain at school over the noon hour is one way Regina Catholic is hoping to alleviate some costs within the division.
Beginning in September, an annual fee of $ 35 each for kindergarten students and $ 70 each for Grade 1 to 8 students will be in place, capped at $ 140 per family. No fees will be directed at high school students. Of the 26 elementary schools in the division, seven will be excluded due to a shortened lunch break.
Bonnell said the original recommendation had suggested $ 100 per student, but meetings with parent councils had trustees looking to reduce the burden on parents as much as possible.
Article content
"We tried to make it as small as we could so it wouldn't be a hardship," Bonnell said. "We don't want to impact parents with extra costs (but) we found it a necessity at this time."
She also noted that the division plans to "consider" families, and that schools will not be asked to follow up on unpaid fees.
Despite being set lower than recommended, the new fees are expected to cover the annual $ 300,000 cost of staff supervision during noon hours, as a cost recovery method.
Bonnell indicated it wasn't an easy decision to put more financial onus on parents, but the fees were the best revenue option that allowed the division to maintain student support in the educational setting.
"We want to keep as many resources in the classroom as possible," Bonnell said. "With the funds that we've been given by the ministry, we've had to look at areas that we normally wouldn't."
Other divisions in the province are already operating with these fees, she added, including within the Queen City. Regina Public Schools implemented lunch fees in 2016, setting their rate at $ 100 per student for full-time and $ 50 per student for part-time, capped at $ 200 per family.
There will also be some staffing reductions taking place to alleviate some budget strain, but no layoffs are occurring, Bonnell confirmed.
A reduction of 3.5 teachers, in line with projected enrolment declines, will be accounted for in retirements and resignations.
The equivalent hours of seven teachers will also be reduced as the elementary online learning program returns to classrooms, with those "cuts" occurring through reallocation of staff.
Article content
One mental health and wellness learning consultant will be cut and replaced with an educational psychologist, filling out the division's pledge to focus on student support services and mental health needs.
"We don't want kids coming to us with more and more challenges, especially after a pandemic," said education director Sean Chase. "We were in a deficit position in terms of the ability to deliver educational psychological assessments, so we repurposed funds from that position into this new priority and we're pleased to build our capacity."
The news seems to be flying at us faster all the time. From COVID-19 updates to politics and crime and everything in between, it can be hard to keep up. With that in mind, the Regina Leader-Post has created an Afternoon Headlines newsletter that can be delivered daily to your inbox to help make sure you are up to date with the most vital news of the day. Click here to subscribe.